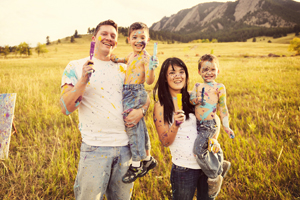 Have you ever heard the phrase, "A picture is worth a thousand words?" Photography has been used for many things – chronicling events, proving court cases, documenting history. But photography can also be a very personal and creative field of visual art.
A photographer can communicate relationships, moods, even emotion. They can capture and manipulate light and produce tangible pieces of history, images that can tell a story for generations to come.
Hi, I'm Ernestine Treu. I'm a homeschooling mom and the owner of Treu Image Photography, a lifestyle portrait studio in the Denver area. The Foto Finch is the teaching branch of Treu Image and provides self-paced, independent photography courses for students elementary age through high school.
Each course contains several lessons, written in language that beginning photographers can understand. Tons of photographic examples are included to give students a fuller understanding of each concept. Each lesson is followed by one or more shooting assignments; these are step by step exercises designed to help your child take the information they read and put it into practice through hands on learning.
For more information on each course, please use the tabs in the menu bar above. Thank you so much for stopping by! I hope you and your student will find these classes educational, enjoyable, and valuable for growing in this creative art.
– Ernie